2 DAY CONFERENCE
Product Elevation Conference 2022: In-Person
Topics covered:
Overview
The global conference for Product Managers, UX Designers & Leaders to Discover Together

Product Elevation Conference will return on November 9 & 10 2022 — as both an online conference and in-person in Dublin, Ireland.
Our event connects passionate Product & UX people worldwide, to share case studies, examples and stories about elevating products to solve our customers' most wicked problems. We are not about dry theory, but about telling our stories to help us all learn and grow – including how we failed, what we learned, how we elevated our products in the face of complexity and change.


---

Product Elevation Conference features keynotes from
---

How does it work?
Product Elevation 2022 will be hosted as a Hybrid conference with both speakers and attendees joining either in-person or online.
Product Elevation 2022: In-Person Tickets
Join us at the Clayton Hotel Cardiff Lane in Dublin, where you'll interact and network with like minded developers while learning from leading thought leaders, product owners and developers from the software industry.

For the In-Person event, some speakers will be on site, while others will be broadcast. Schedule details of will be announced closer to the event, but are subject to change.

In-Person Tickets include access to the Online event, as well as the talk recordings.

Product Elevation 2022 will follow protocols set out in Ireland's Guidelines for re-opening business conference and event venues.
Book today and save!
Product Elevation 2022: Online Tickets
Learn from thought leaders, architects and developers as you connect with like-minded people to share skills, insights, and lessons from the comfort of your own device.

Online Tickets include access to our virtual events platform, where you'll be able to watch live sessions, participate in live Q&As from the event, and network with attendees from around the globe.

You'll also gain access to the talk recordings within 48 hours of the event's conclusion.

Online tickets do not include access to the In-Person event.

Book Online Tickets Here
Book with Confidence
We know these are uncertain times and it can be hard to commit to future events. Should COVID restrictions make it impossible for us to host Product Elevation 2022 in person, your ticket will be converted to a Product Elevation 2022: Online ticket and you will be refunded the price difference.
---

Who is our event for?
This is the perfect event for you if you are a:
Product Manager
Product Owner
UX or Visual Designer
User Researcher
Entrepreneur or Intappreneur
Leader
Developer
Tester
In any role curious to learn about product creation

For complete details on Product Elevation, please visit the project's microsite at productelevation.org
Programme
Venue
Clayton Hotel Cardiff Lane
Get Involved
Would you like to speak at Product Elevation 2022? We want to hear your talk proposals!
The Product Elevation conference is Europe's favourite community event for Product People.

Product Elevation is a Dublin based group, connecting passionate Product & UX people worldwide, to share case studies, examples and stories about elevating products to solve our customers' most wicked problems.

Speaking at a conference is a powerful way to share your ideas and influence. As a speaker, you will have the opportunity to share your product experience with a global audience of practitioners.

The theme of our conference is Discover Together. We actively encourage submissions on the following topics:
Outcome-driven Product Creation
Product Discovery
UX Design & Research
Modern Product Management & Leadership
Submit a Talk
Guidelines
Submissions should be for one of the following session types:
30-40 minute talk
10-15 minute lightning talk
Half-day workshops
Talks will be selected by the Product Elevation Programme Committee on the basis of making the conference a varied and valuable event. Submission is open to anyone.

Note in your submission whether you'd prefer to speak in-person (in Dublin) or virtually.

Proposals must be submitted to Skills Matter by 23:59 UTC on 31 May 2022 in order to be considered by the program committee.

Chosen speakers will receive two free tickets to the online conference: one for the speaker and one for a guest of their choosing. In-person speakers will be given 1 free ticket for themselves to the in-person conference.

Please familiarise yourself with our Code of Conduct before submitting. You can find it here.

Recording
All Product Elevation sessions will be recorded.

After the conference, recordings are available to Product Elevation 2022 ticket holders and Skills Matter Premium Members for a period of 365 days. After this time, they will become freely available on the Skills Matter platform.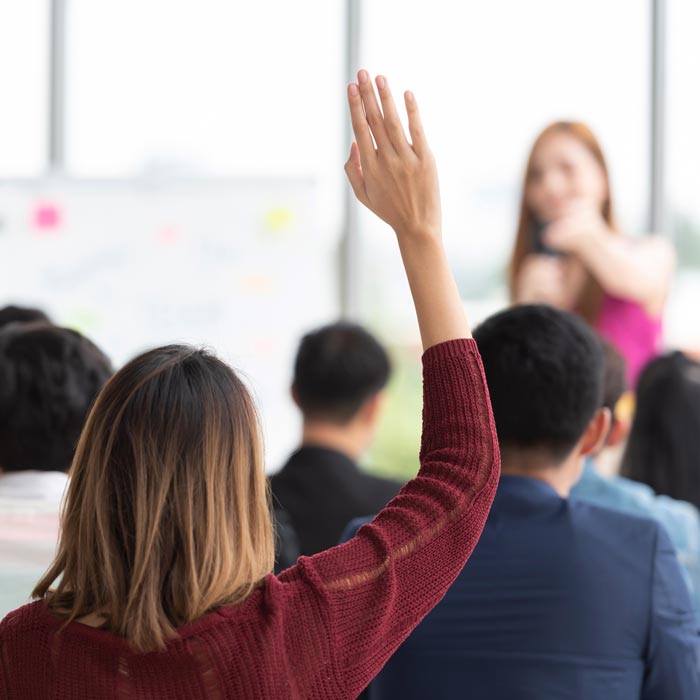 First Time Speaker?
We are actively encouraging first-time speakers to submit a proposal to Product Elevation 2022. You've got a unique point‑of‑view and we want to hear it.

New voices will strengthen the Product community and help it grow. We strongly encourage new users and first-time speakers to submit a proposal and are very excited to read proposals featuring your fresh perspective.

If you would like to discuss your proposal before submitting, please contact us at conferences@skillsmatter.com.
SkillsCasts
Hold tight, skillscasts coming soon!
Other Years