1 DAY CONFERENCE
P3X People Product Process eXchange: Online
Topics covered:
Overview
Bridge the gap between business and technical teams with better collaboration.
P3X is the go-to conference aiming to explore and discover how three core themes: People, Product and Process can collaborate.
Over two tracks, a mixture of stimulating talks and practical workshops will equip you with the knowledge to apply effective collaboration to an aligned vision, resulting in real-world outcomes.
People

Maximise human potential

From diversity to collective intelligence, what are the factors that help business and technical teams better collaborate?

Product

Explore products and align vision

What are the ways in which we frame, slice, understand and explore the intent of product evolution?

Process

Deliver globally-relevant outcomes

What are the practices, tools, models and techniques that can help us deliver world-changing outcomes?
---

Who should attend?
People Product Process eXchange is designed for software professionals working in roles such as:

Scrum Masters
Agile Coaches
Agile Developers
Product Owners
Project Managers
Quality Assurance Specialists
Test Analysts
Software Quality Engineer
Senior Engineers and Team Leads
Engineering Directors and Managers
CTOs and CIOs
or
Simply someone interested in learning how collaboration can improve software development.

---

Will it be online or in-person?
P3X will be hosted as a Hybrid conference with both speakers and attendees joining either in-person or online.

We'll be announcing ticket details soon. If you'd like to be notified when new information is available, please register here for updates.
Book with Confidence
We know these are uncertain times and it can be hard to commit to future events. Should COVID restrictions make it impossible for us to host P3X in person, your ticket will be converted to a P3X: Online ticket and you will be refunded the price difference.
Programme
HOLD TIGHT, PROGRAM COMING SOON!
We're currently working on a program. If you have any suggestions, topics you'd like to see covered, or experts you'd like to meet, let us know!
Get Involved
Would you like to speak at P3X — People Product Process eXchange? We'll be opening our 2022 Call for Speakers soon.
Speaking at a conference is a powerful way to share your ideas: If you're passionate about a topic, excited to showcase a recent project, or hoping to influence the adoption of a particular technology, framework or methodology we want to hear from you.

We recommend that you explore the programs from previous editions of P3X before submitting a talk proposal. Every conference is unique, and developing an understanding of our audience and previous sessions will provide your talk with the best chances of being selected.

We'll be opening our Call for Speakers soon. If you'd like to be notified when the submission process is open, register here for updates.
Guidelines
Skills Matter conferences are programmed by and for our community, and we welcome submissions from around the globe.

All talks for P3X will be selected by Skills Matter and a Programme Committee of volunteer community members. Submissions are open to anyone, and we especially encourage first-time speakers to submit a proposal.

The deadline for proposals will be announced once the Call for Speakers opens. Proposals must be submitted before the deadline in order to be considered.

Chosen speakers will receive two free tickets to the conference: one for the speaker and one for a guest of their choosing.

Please familiarize yourself with our Code of Conduct before submitting. You can find it here.

Recording
All P3X sessions will be recorded.

After the conference, recordings are available to P3X ticket holders and Skills Matter Premium Members for a period of 90 days. After this time, they will become freely available on the Skills Matter platform.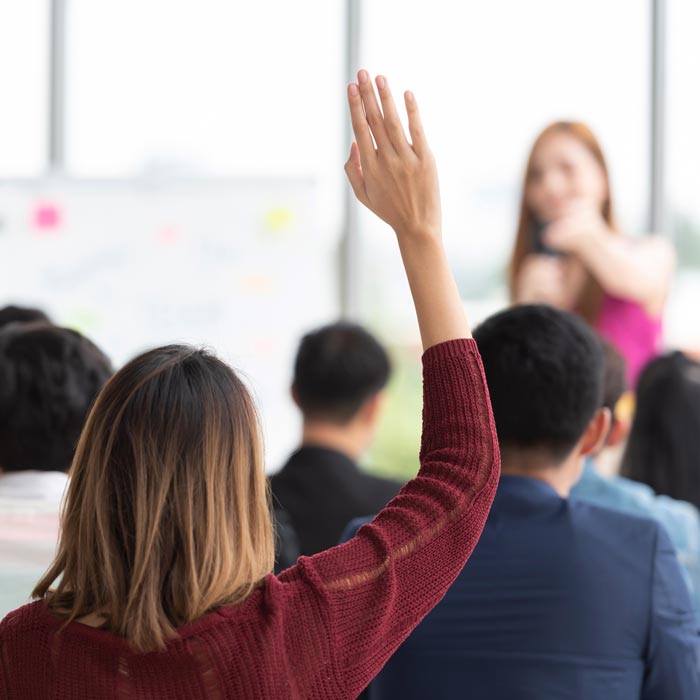 First Time Speaker?
We actively encouraging first-time speakers to submit a proposal to P3X. You've got a unique point‑of‑view and we want to hear it.

New voices will strengthen the Skills Matter community and help it grow. We strongly encourage new users and first-time speakers to submit a proposal and are very excited to read proposals featuring your fresh perspective.

If you would like to discuss your proposal before submitting, please contact us at conferences@skillsmatter.com.
Become a sponsor of P3X – People Product Process eXchange

Whether you're looking to attract talent to your team or spread awareness of your company, sponsoring P3X is a terrific way to support and connect with our global community of Agile enthusiasts.

We offer a variety of opportunities for continuous visibility and continuous engagement. Community is at the heart of all we do at Skills Matter, and we believe it is mutually beneficial to foster genuine connections between our members and truly innovative businesses.

Whether you're looking to develop relationships with our members, or to showcase your product and spread brand awareness, we'd love to find a way to create meaningful interactions between you and our community.


SkillsCasts
Hold tight, skillscasts coming soon!
Other Years